Page 504 -
August 17

, 2013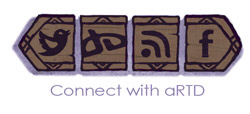 Uh oh, all's not well in the real world. Tune in on Monday for the riveting continuation! Here's another SSSS preview panel too to ease the wait, from page 14. Yes, the guy totally looks like he's calling his family to warn them about impending pandemia but actually he's just trying to think of a good excuse to get off the phone with a very stressful person. His excuse was horrible:
Another thing! A thing that I was going to ask about ages ago but only remembered yesterday, which is: FANART CONTEST for aRTD. Back when the webcomic ReMind had a crowdfunding campaign going, the creator Jason Brubaker threw a fanart contest and it was really great. It was fun for readers (as in me) but he also encouraged people to tell their friends to come vote for their favourite fanart pieces (or their own piece) whic spread the word of the comic and the very successful campaign that was going on. And I knew that if I were to ever do a campaign of my own I would simply have to steal that idea! Ape it all the way through!
I remembered it now that I was looking through my new, also Kickstarter-funded book of the webcomic Next Town Over, and saw that it also had pictures from its fanart contest included in the back. And it's good that I did, because ideally the voting and final call of winner(s) would be during the last week of the campaign, and I would like to give anyone interested a month or so until the submission deadline. So I'd need to have submission guidelines, prizes and general rules figured out and posted next week.
So hey, any thoughts on that? Fanart contest; yay or nyeeeeh? I'll probably be copying the simplicity of how Brubaker ran his, but I'd still love to hear ideas and suggestions that you guys might have. Basically, what do you like seeing in different fan-contests, either as a partaker or spectator? (And as a final note: there will be an option to submit fanart and have it displayed with credits/links without having to take part of the contest for those who are squeamish about competing. I have terrible childhood art-contest traumas so I know how that feels! ;_;)