Donate any amount you feel like and get an awesome exclusive desktop wallpaper as a thanks.
Short-story comics. They're cute and sweet and cheap.
There's some prints if you want some. Prints are cool.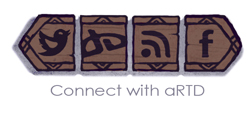 Page 165 - July 24, 2012
Looks like we've reached some kind of destination once again, at last! And I've got a fun Voting incentive up on TopWebComics today that fits right in here: I'm working on a loose little painting version of the scene in the middle panel, and the incentive contains both the colored sketch of about 15 minutes, and a WIP-shot after 2 hours of work on it. The whole painting will probably be finished some time today (started it yesterday, completely on impulse), and I'll put it in the gallery tomorrow.
I can't remember making painting versions of any panels up until now, but I've got to say that It has been a quite enjoyable experience. Which was surprising, I was sure that painting a scene I've already drawn once would be as boring as watching toenails grow. But it wasn't! It was more like watching a cat sleep; therapeutically relaxing and comfortable.