Donate any amount you feel like and get an awesome exclusive desktop wallpaper as a thanks.
Short-story comics. They're cute and sweet and cheap.
There's some prints if you want some. Prints are cool.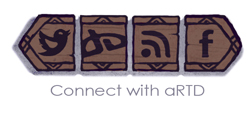 Page 143 - June 7 2012
Important note about June: Time has come for my three week summer vacation, which means I'll see you all after midsummer celebrations and the traffic chaos that follows are over .I'm hitching a ride back home with my mom, and we're definitely going to wait a couple of days for that craze to pass. So updates for aRTD will resume right at the beginning of July. (Unless I'm eaten by a troll or a nasty summer storm prevents us from leaving the island, but let's not count on that.)
Aaanywaaay, once I get back I'll be increasing the number of pages per week from the current 2 to at least 4, so basically I'll be doubling the frequency of updates! Let's all make a happy-face about it right now-> 8B.
I will, of course, be working on the comic even when I'm gone, my goal is to draw the linearts of at least 30 pages. Hopefully I'll get chapter 4 at least somewhat rounded up with that, because it's turning into one behemoth of a chapter. The original plan was to keep it around 90 pages long, but I've already drawn like 80 pages of it and there is no chance in heaven that I'll be able to keep the final number from reaching triple digits. One thing has become very clear to me: I am the worst person ever at estimating the amount of pages needed to comfortably guide the story from point A to point B. Believe it or not, but my initial estimate for this whole comic was less than 150 pages, even though the story has sttayed pretty much the same since the very beginning. By christmas I had already adjusted that number to 250 pages, and now I'm kind of afraid I won't be able to wrap the story up in less than 500 pages. Oh, how I rue the upcoming year, I'll have to keep up a pace of one page per day to finish in time... ;_;
Oh, and if someone's thinking-muscles are now bothered by the question "sooo, if you have a page buffert of almost 80 pages, why can't you just keep updating while on your little vacation?". Short answer: can't. Long answer: Ain't got no internet connection or elecricity where I'm headin', man. The closest computer will be in the library of the nearby town, it takes like half an hour with boat+car to get there, and I doubt they would allow me to install Filezilla on their computer anyways. xB Let's just hope I don't have a complete breakdown from the massive internet-withdrawal I'll surely experience.
In conclusion; see ya later, the update pace will speed up like crazy starting next month, I suck at estimating page counts, and I might die from internet-withdrawal. Oooh, and the voting incentive for TopWebComics I'm leaving you guys with is the last panel from the last page I've finished so far, page 218. (The three following pages are nearly finished too, they're only lacking speech bubbles) Don't worry, it's not a very spoilerish panel.